The Far North Branch of the Theosophical Society is one of the most recent branches to be formed. It was started by the initiative of a member of the Theosophical Society who has been actively involved with its work for many years.
We have our own building in Kaeo. Please contact us for any information and we welcome any suggestions for topics, and people to present their niche.
Members of the Far North Branch also participate in the activities and events of the nearby branches of the Theosophical Society in Whangarei, Orewa and Auckland.
Regular Meetings:
Theosophy Centre, Waikare Ave, Kaeo (opp. White Swan Tavern)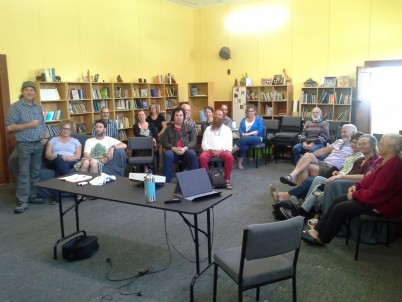 Directions: If coming from Kerikeri direction, turn left into Waikare Avenue which is immediately before the 4-Square store on left. Drive to end of Waikare Avenue to end of the cul-de-sac (about 30 seconds' driving). Theosophy Centre is the pale blue building on the left, up a short right of way. Directly opposite unused White Swan Tavern. Easy to find.
We meet regularly, and the newly operating branch takes every opportunity to 'make things happen' – many spontaneous get-togethers are organised to build 'brotherhood' alongside our regular meetings.