Sharing the Light - Vol. III - Special Book Review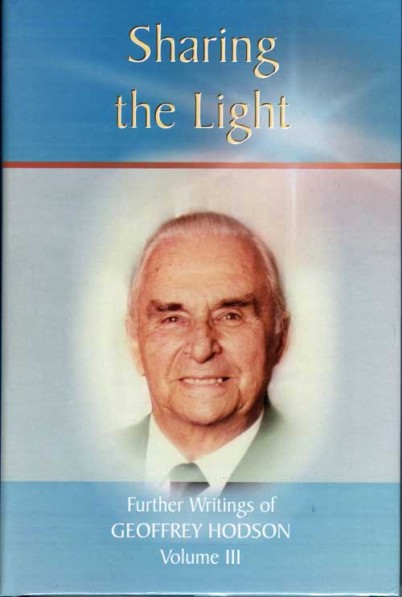 Sharing the Light - Vol. III - Special Book Review (Mar 2015)
Compiled by John and Elizabeth Sell; edited by John and Elizabeth Sell and Roselmo Z. Doval Santos.
Quezon City, Philippines: Theosophical Publishing House, 2014 490 pages, cloth, $39.00.
Sharing the Light -- Further Writings of Geoffrey Hodson, Volume III
New York author, Nathaniel Altman reviews an important new publication with strong New Zealand connections.
Geoffrey Hodson (1886-1983) ranks among the Theosophical Society's most respected teachers, lecturers and writers. In addition to having authored at least 46 books and 37 booklets, he wrote hundreds of articles and gave hundreds of talks throughout the world. Many contain insights imparted to him from both Angelic and Adeptic sources, as well as from his own direct clairvoyant and yogic investigations.
 
A profoundly modest and self-effacing individual, Geoffrey Hodson assiduously avoided the 'guru adoration syndrome' that has befallen so many spiritual teachers over the years. It was not until after his passing that we learned that Mr Hodson had received direct guidance and inspiration from Adept and Archangelic teachers throughout his adult life. Although he often referred to himself as simply a "student of Theosophy," Dr Robert Ellwood, Professor of Religion at California State University, described Geoffrey Hodson as "worthy of compare with the greatest seers and mystics of any land or time."
This book is the third collection of Mr Hodson's lesser-known writings gleaned primarily from pamphlets and booklets long out of print, by John and Elizabeth Sell, prominent members of the New Zealand Section, and edited by them and Dr Roselmo Z. Doval Santos, President of the Theosophical Society in the Philippines. Their stated goal was to "bring together as many of Geoffrey Hodson's booklets as we could find so that they may not be lost to coming generations."
As in the previous two volumes, the material presented here is clearly written, and reflects Hodson's broad and eclectic range of personal and professional interests with a strong practical emphasis on how to live a spiritual life of integrity, compassion and right action. The work addresses: Esoteric Christianity, death, reincarnation, world peace, the importance of beauty, the way to the Masters, relationship, healing, diet, animal welfare, marriage, motherhood and education.
This impressive collection contains a wealth of material suitable for both individual and group study. Individual titles include: The Clairvoyant Study of Fairies, Nature Spirits and Devas, The Spiritual Significance of Motherhood, Angels and the New Race, Principles Governing Happiness in Marriage, The Path to the Masters of the Wisdom, Health and the Spiritual Life, The Humanitarian Cause and Does Justice Rule the World?
Although some of the writings date back to over 80 years ago, many will resonate with the present day. Lamenting the pernicious effects of radio and cinema on young people he writes:
For today, success simply means becoming rich. 'Get! Get! Get!' becomes the motive for all effort. Trick, deceive, outwit, compete, becomes the mode, the means of success. … They are sent out into life with a strong desire to advertise themselves, their education, their scholastic degrees, their highest gifts for money, power, possessions.
Writing towards the end of the Second World War, Mr Hodson could be describing the present-day cults of narcissism and materialism, fuelled by television, magazines and social media.
Much in this volume appears to reflect a similar passionate tone. Krishnamurti and the Search for Light is a vigorous and detailed critique of Jiddu Krishnamurti, written seven years after his resignation from the Theosophical Society in 1929. Referring to Krishnamurti's teachings as "an extraordinary blend of rare flashes of transcendental wisdom, penetrating intelligence, incomprehensibility, prejudice, intolerance and vituperation," Mr Hodson's essay focuses on how Krishnamurti led many former members of the Theosophical Society into "darkness" and why his teachings should be rejected. Mr Hodson writes, "…The extraordinary confusion of thought which he is causing everywhere he goes might be productive of great harm."
The Problem of Sex Training and a Solution, Mr Hodson offers wide-ranging advice on raising children to become well-grounded, ethical and spiritual adults, including the need for celibacy when teaching young people about sex:
There is only one absolutely sure protection against grievous effects, physical and moral, of sexual indulgence. That sole protection against disease of body and soul for youth is the bright shield of continence… This simple but dishonoured truth must be at the heart of all sex instruction, all hygienic education.
Some readers may feel uncomfortable reading such direct statements, many of which may challenge one's accepted beliefs or personal behaviour. We can choose to dismiss them as simply being part of another era or as examples of an extreme, absolutist or puritanical point of view. Yet an open minded seeker of truth can choose to welcome such ideas, and use them as a touchstone to examine our own characters, beliefs and conduct. We can then seek to explore their validity, despite their urging us to move beyond our personal comfort zone.
In addition to his writings, Sharing the Light -- Volume III includes a previously unpublished discussion between Geoffrey Hodson and John Sell exploring such areas as elementals and discarnate entities, Kundalini and spiritual healing. Readers will also welcome two little-known articles by Sandra Hodson: Theosophy and Family Life and Failure – Gateway to Success. A former General Secretary of The Theosophical Society in New Zealand, Sandra Hodson was a respected theosophical leader, teacher and author in her own right. Often working quietly in the background, she helped edit many of her husband's writings and compiled his three posthumous books, Light of the Sanctuary: the Occult Diary of Geoffrey Hodson (1988), The Yogic Ascent to Spiritual Heights (1991) and Illuminations of the Mystery Tradition(1992).
As in the previous two volumes, Volume III contains photographs of Mr Hodson that have rarely been seen before. It also includes a fascinating report by a scientist who observed some of Mr Hodson's clairvoyant research in New Zealand during the 1950s.
Some may feel overwhelmed by the quantity and range of material found in Volume III's nearly 500 pages. Rather than study the book from beginning to end, the student might wish to focus primarily on subjects of immediate interest, and then move to other writings later on. Fortunately, the book is well-organised and subjects are easily accessed through a clear and comprehensive index. In wide-ranging compilations of any prolific writer's work, some overlap of material is inevitable, but the editors appear to have kept this to a minimum. My only criticism is the absence of complete references, including the original publication history of each article or booklet.
Like the previous two volumes, Sharing the Light: Further Writings of Geoffrey Hodson offers a wealth of original, eclectic and practical teachings that will challenge, inform and inspire. In addition to being an important addition to the library of every theosophical lodge or study centre, this book can form a valuable part of the library of individual students who wish to expand our insight, compassion and understanding of life.
Editor's note– When asked regarding the lack of references on some items, Elizabeth Sell explained that some of the booklets and pamphlets included in Sharing the Light -- Vol. III had no publisher or date listed on them so that a history could not be fully referenced. We suggest that many of the writings would have been published for local readership by volunteers rather than professionals with no thought of any possible future worldwide distribution.
A member of The Theosophical Society in America since 1970, Nathaniel Altman was a student of Geoffrey Hodson at the Krotona School of Theosophy in 1972. Nathaniel is an author in his own right, having had many books of his own published, including one on vegetarian cooking with a foreword by Geoffrey Hodson, as well as on Ahimsa, palmistry and more recently: The Honey Prescription.
--- Published in the TheoSophia issue, March 2015